Web design and development in Valencia
We help you with the design for your website, the programming of e-commerce or the development of your corporate website. Experts in digital magazines, personal and professional blogs.
Web Design Services
This is what our web design and development company in Valencia can do for you and your business. Maximum professionalism and confidence.
Specialist in web development with WordPress, WooCommerce, PrestaShop and providing tailor-made integral solutions with PHP, HTML, JS y CSS
Prior analysis of each project's information, UI graphic design, design with the expertise of an UX user. Matching the web's design to the needs of each project
Implementation of text and code SEO strategies to improve the website's placement, advisory and consulting service, network management, digital content creation and distribution
How much does the design and development of your website cost?
Demana pressupost a mida per al teu projecte de Ask for a customized budget for your development or web design project and we will answer within 2 business days
Some of our web page design projects
As a web design company in Valencia we have more than 15 years of experience in the development of digital products and websites. Thanks to our team of professionals, we always carry out web development adapted to your needs. Here you can take a look at all the web design and development projects we have worked on:
How we work web design and development
At Doowebs we have some maximums and values ​​that we use to achieve the best design and development of web pages for our clients. If you bet on our web development company in Valencia, your page will meet all the essential requirements to conquer the public:
Functionality, Usability, Creativity and Team Work
These concepts are the fundamental pillars of our work philosophy as a web design company in Valencia and custom programming.
To help you with the development of your digital product, we integrate specialized processes to achieve a product that is homogenous and integrated to your corporate identity, without overlooking the technical, creative, esthetic and professional components.
This is undoubtedly our great contribution of value for the design of really effective websites, where we prioritize your commercial objectives in line with the user experience.
As experts in programming, development and web design in Valencia, we know that having a good professional page is not enough. At Doowebs we develop an attractive web design that comes and accompanies you during your digital business growth process..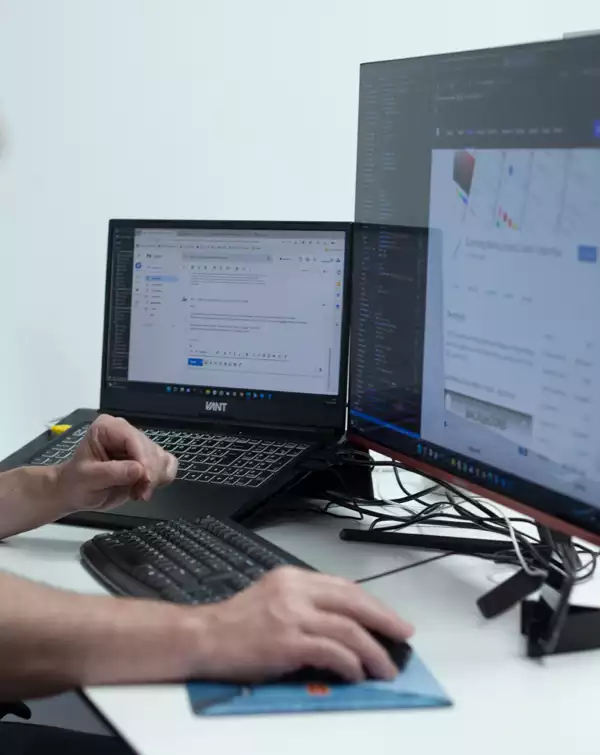 1 Idea
We help you to define your digital product and advice you to achieve the success of your project.
2 UX Prototype
Once the idea is clear, we begin with the creation of prototypes. In this step, we implement all your instructions and requirements por the projects's prototype.
3 UI Design
In this phase, the graphic design that is applied to the prototype approved in the previous phase is carried out. Sample screens are shown to approve the graphic line and proceed to propagate to the rest of the screens. At any moment of the process you can review and indicate changes in the design.
4 Programming
Once all the designs have been approved, we proceed to program them. In the web development process we apply the design and functionalities to the new website with code programming using the latest techniques and trends in web development.
5 Maintenance
We analyze user behavior to improve the browsing experience. We keep your CMS up to date with the latest stable versions. We offer quality web hosting updated to the latest software versions.
Comprehensive solution for your business
A web project never ends.
As you can see, in Doowebs we can design from design to write the last programming symbol.
But the job doesn't end there, and you only have time to grow your business and fight for it.
Bringing a website to life means understanding not only the idea, but the industry, its customers and the environment in which it is developed. Then again, the importance of web design and custom programming is key to achieving this.
And that's why we have a lot of time in our web development and design company in Valencia. So much so that we work full time to always get the best results.
We help you
Put in contact with us. Ask for your quote and get the best web design for your project. We want to be your reference agency.