Web design and development in Valencia
We help you with the design for your website, the programming of e-commerce or the development of your corporate website. Experts in digital magazines, personal and professional blogs.
Web Design Services
This is what our web design and development company in Valencia can do for you and your business. Maximum professionalism and confidence.
Specialist in web development with WordPress, WooCommerce, PrestaShop and providing tailor-made integral solutions with PHP, HTML, JS y CSS
Prior analysis of each project's information, UI graphic design, design with the expertise of an UX user. Matching the web's design to the needs of each project
Implementation of text and code SEO strategies to improve the website's placement, advisory and consulting service, network management, digital content creation and distribution
How much does the design and development of your website cost?
Demana pressupost a mida per al teu projecte de Ask for a customized budget for your development or web design project and we will answer within 2 business days
Some of our web page design projects
As a web design company in Valencia we have more than 15 years of experience in the development of digital products and websites. Thanks to our team of professionals, we always carry out web development adapted to your needs. Here you can take a look at all the web design and development projects we have worked on:
How we work web design and development
At Doowebs we have some maximums and values ​​that we use to achieve the best design and development of web pages for our clients. If you bet on our web development company in Valencia, your page will meet all the essential requirements to conquer the public:
Functionality, Usability, Creativity and Team Work
These concepts are the fundamental pillars of our work philosophy as a web design company in Valencia and custom programming.
To help you with the development of your digital product, we integrate specialized processes to achieve a product that is homogenous and integrated to your corporate identity, without overlooking the technical, creative, esthetic and professional components.
This is undoubtedly our great contribution of value for the design of really effective websites, where we prioritize your commercial objectives in line with the user experience.
As experts in programming, development and web design in Valencia, we know that having a good professional page is not enough. At Doowebs we develop an attractive web design that comes and accompanies you during your digital business growth process..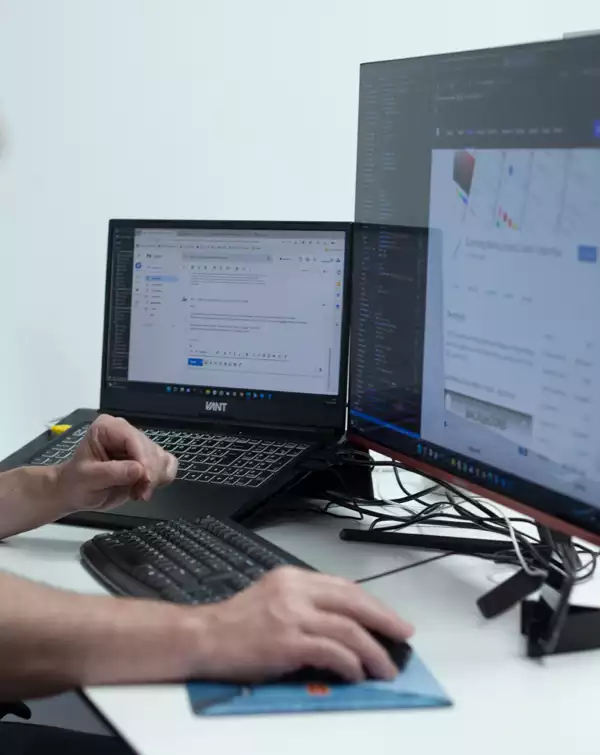 1 Idea
We help you to define your digital product and advice you to achieve the success of your project.
2 UX Design
Once the idea is clear, we begin with the creation of prototypes. In this step, we implement all your instructions and requirements por the projects's prototype.
3 UI Design
In this phase, the graphic design that is applied to the prototype approved in the previous phase is carried out. Sample screens are shown to approve the graphic line and proceed to propagate to the rest of the screens. At any moment of the process you can review and indicate changes in the design.
4 Development
Once all the designs have been approved, we proceed to program them. In the web development process we apply the design and functionalities to the new website with code programming using the latest techniques and trends in web development.
5 Maintenance
We analyze user behavior to improve the browsing experience. We keep your CMS up to date with the latest stable versions. We offer quality web hosting updated to the latest software versions.
Types of web design of web pages
Corporate Websites
We design your website to get new customers and generate new business for your company. We establish an optimal content structure and hierarchy to obtain the highest possible conversion.
E-commerce
Our experience in the design of e-commerce helps us make decisions to develop a user-focused e-commerce solution that facilitates the sale of products and adapts to the sector of your business.
Blogs and digital magazines
We design blogs and digital magazines with attractive and dynamic covers. We establish a structure of categories, tags and advanced comment systems. Different roles of authors to manage and automate the publication of their own content.
Custom programming
Our team analyzes to apply the optimal solution for each project. We analyze the functionalities that are needed and we program the custom code, whether they are plugins, themes or comprehensive custom development.
Events
We develop your tool where you can advertise the poster of the event, have a catalog of artists or speakers, sale and management of digital tickets… and any extra functionality you need for your event. All manageable from your panel to be able to modify content and manage ticket sales.
Comprehensive solution for your business
A web project never ends.
As you can see, in Doowebs we can design from design to write the last programming symbol.
But the job doesn't end there, and you only have time to grow your business and fight for it.
Bringing a website to life means understanding not only the idea, but the industry, its customers and the environment in which it is developed. Then again, the importance of web design and custom programming is key to achieving this.
And that's why we have a lot of time in our web development and design company in Valencia. So much so that we work full time to always get the best results.
We help you
Put in contact with us. Ask for your quote and get the best web design for your project. We want to be your reference agency.
We offer you solutions to your problems
The website of my company is obsolete and gives errors
We analyze your code and assess the best option to renew your website, offering several options adapted to your budget.
My website is very slow
We are experts in improving web performance, so we avoid waiting, slow loads and optimize core vitals. We analyze both the code of your website and the configuration of your server to present you with solutions.
Browsing my website is chaos
Our UX design team will review your site, proposing changes to improve usability.
My website is constantly being hacked
This is usually due to neglected website maintenance, with outdated CMS versions, templates and plugins with vulnerabilities. We audit your site and take actions to strengthen the security of your website.
I want to design a website for my business and I have no idea where to start
We advise you in the process by studying your business and the possibilities of establishing your online presence, we prepare a proposal that adapts to your sector and the needs of your project.
The texts on my website are not understood
In our company we have professionals in writing texts for the web with experience in making copies for blogs, magazines, online stores, social networks and corporate websites of different types of businesses.
I need a Landing Page
We offer you the Landing page creation service for online campaigns and lead generation for your business.
Web design prices in Valencia
If you are looking for a web design company in Valencia and the price it can cost you, you have come to the right place. Today we are going to tell you how we prepare our budget at Doowebs, since the price of designing and developing a website depends on the type of project and its needs. For example, the cost is different if a pre-designed template is used, a simple design or a custom web page design is made.
Another point to take into account to find out how much a web page costs are the functionalities of the project: advanced forms, private part of the web, database, custom fields… At Doowebs we study your project and, depending on your needs, We propose the optimal web solution.
Now, we are going to develop a bit the different elements that determine the final budget.
What influences the price of a website
Model and structure
One of the first factors that we must take into account when preparing a budget is knowing what type of website you want to create. As we have pointed out before, there are predefined models and simple templates that will allow you to have a cheap web design but with an incredible finish and, to a certain extent, customizable.
On the other hand, if you are looking for something truly unique, that differentiates you from the competition and with absolute freedom to create what you need; a custom-made website will be ideal for you. With this system, we will be able to structure in a complete way all the pages that you want to include in your website.
Maintenance service
Again, we must differentiate between what a one-time job entails for the development of a website from what continuous long-term maintenance work implies. Most large companies and digital platforms need the latter, since it allows them to quickly solve any incident they want to resolve.
SEO Tools
On the internet, positioning is one of the best forms of visibility for your project. And the tools that can help you improve your SEO position affect the budget of the web page, such as the writing of texts oriented to the search for keywords or the optimization of the site for a better user experience.
The objective is that search engines find our website as a friendly site and, therefore, recommend it to users in their searches. Monitoring these tools and their optimization after analysis is key to maintaining a good position on search pages.
Other services
Beyond the development and creation of content, there are other services that also mark the budget of a page. Translation into several languages, a small training course to be able to manage the web or any other need that the client may have.
As you can see, there are different elements that modify web design in Valencia and its prices. Therefore, the best way to obtain an adjusted and personalized budget is to contact us through our form.
Website size
Of course, another point to take into account to give you the best prices for web design is the amount of pages and information that we are going to prepare. It is not the same to work solely on a homepage that contains all the information than to create a complete structure with differentiated menus and submenus.
Keep in mind that most informative websites (for brands and companies) have four main pages:
Home: The home where the main claim is presented and which serves as a 'meeting point'.
Who we are: A page where the company or organization being talked about is known a little better.
Services or products: The best way to show, in a condensed way, what is offered to customers.
Contact: We must offer web visitors a way to contact us.
Page functionalities
Without a doubt, one of the factors that most determines the prices of a web page are the different functionalities that we want to include in it. This, on many occasions, goes hand in hand with the size of the web itself; but also everything that allows us to do within it, both administrators and visitors.
From implementing a payment gateway for an eCommerce or creating a live chat to be able to communicate directly with the company, to enabling access to the inventory of an online store or being able to manage users who have created an account.
Frequently Asked Questions about web design in Doowebs
How is the budget of a web page calculated?
We study each project to optimize costs as much as possible, calculating the hours of the development and web design team. Depending on the needs of each project, we prepare a tailor-made proposal.
How much does the design of a web page cost?
Contact us to study your project and make a proposal. Each project has one or the other needs and depending on these we calculate the cost.
Do you make landing pages for online campaigns?
Of course, we are specialized in the design and development of landing pages for promotions, events and lead capture.
How do I know what type of website I need?
Tell us about your project and our team will study it and advise you to offer you the best digital solution for your business.
How long does it take to create my website from scratch?
Depending on the complexity of the project, our developments are usually between 3 weeks and 6 months. During this process we will keep you informed of everything.
Who is in charge of maintenance, hosting, security, updates?
At the end of the projects we have several web maintenance options for our clients, in each case we advise you to choose the most appropriate option.
Do you redesign websites?
We carry out an audit of your current website to propose design improvements or a new one depending on the state of the current website. The improvements range from usability, performance and of course, web security.
Can you help me position my website?
Our team of SEO professionals in Valencia will analyze your website and sector to propose actions that improve the positioning of your website. The positioning in the search engines will make the visibility of your website much greater, reaching more audiences and potential customers.
Do you offer assistance at the end of the web design?
The different web maintenance options that we offer after publishing a project include assistance for any type of doubt that arises on a day-to-day basis and training to be able to manage the website.
What are the payment terms?
Normally in most of our projects the form of payment is 50% initial and 50% when publishing the project, although it depends on the type of project, this may vary and we can be flexible. If it is a large project, we can work in sprints, paying the cost of this at the end of each one of them.
What platform to create websites do you use?
Most of our projects are done with WordPress, although we also work with PrestaShop and custom developments with PHP, JS, HTML and CSS.
Can you convert my current site to WordPress?
We develop a custom WordPress theme based on your design. We will create the CPT(Custom Post Types) and CF(Custom Fields) necessary to facilitate content management from the backend on your part.
How will I see the progress of my website?
When you publish your website, we give you access to Google Analytics and Google Search Console, where you have complete reports on the users who access your website and positioning data. In any case, we can always advise you on this to analyze the progress and visibility of your website.
Will the website be responsive and mobile friendly?
It is one of the points that we take into account in all our projects, and we always take care so that it is displayed correctly on all devices and sizes.
Will I have my own email?
If you contract hosting with us, we will create your necessary email accounts in your domain, and we will help you configure them.
Are your sites optimized?
In the new projects that we develop, all are optimized to the maximum, obtaining a good result in the Google Page Speed ​​score.
Will I own the website?
Yes, once the project is done, we give you access to the web control panel where you can download the files and its database, as well as having full control of the contents through the CMS panel.
¿Hacéis copias de seguridad?
Who is in charge of the images and content of the website?
We have photography and copywriting services in case you cannot provide it. If you do not have images, we have access to different image banks where we can offer you the ones that best suit your project.
Web design price
The price of designing and developing a website depends on the type of project and its needs. The cost is different if you use a pre-designed template, a simple design or a custom web page design. Another point to take into account are the functionalities of the project: advanced forms, private part of the web, database and custom fields… We study your project and according to the needs we propose the optimal web solution.
What companies do you work for?
We work for design agencies, advertising agencies, SEO and digital marketing agencies, SMEs, large companies and multinationals. We have clients from various sectors, and we adapt to the needs of each of them.